&nbsp &nbsp
Tree Guard Grating Paver Frame Cover
กรอบตะแกรงปกป้องรอบโคนต้นไม้สำเร็จรูป

FRP Steel iron Plastic Big Tree Ring/Guard/Grates pit road Safety Grating Cover Frame Support กรอบตะแกรงปกป้องรอบโคนต้นไม้สำเร็จรูป ใช้สำหรับงานตกแต่ง พรวนดินให้ดูแลรดน้ำถึงรากแก้วได้ง่าย ทั้งยังเป็นการป้องกันรากแก้วกรณีมีรถวิ่งผ่านได้ นิยมใช้กันมากในงาน Land Garden Scape งานภูมิสถาปัตย์ มีความเหนียวแข็งแรงทนทาน หรือใช้เป็นตะแกรงลานจอดรถ ทดแทน บล็อกตัวหนอน บล็อคปูถนน ตกแต่งพื้นสนามหญ้าสำเร็จรูป Replacing Concrete/Masonry Block Paving Unit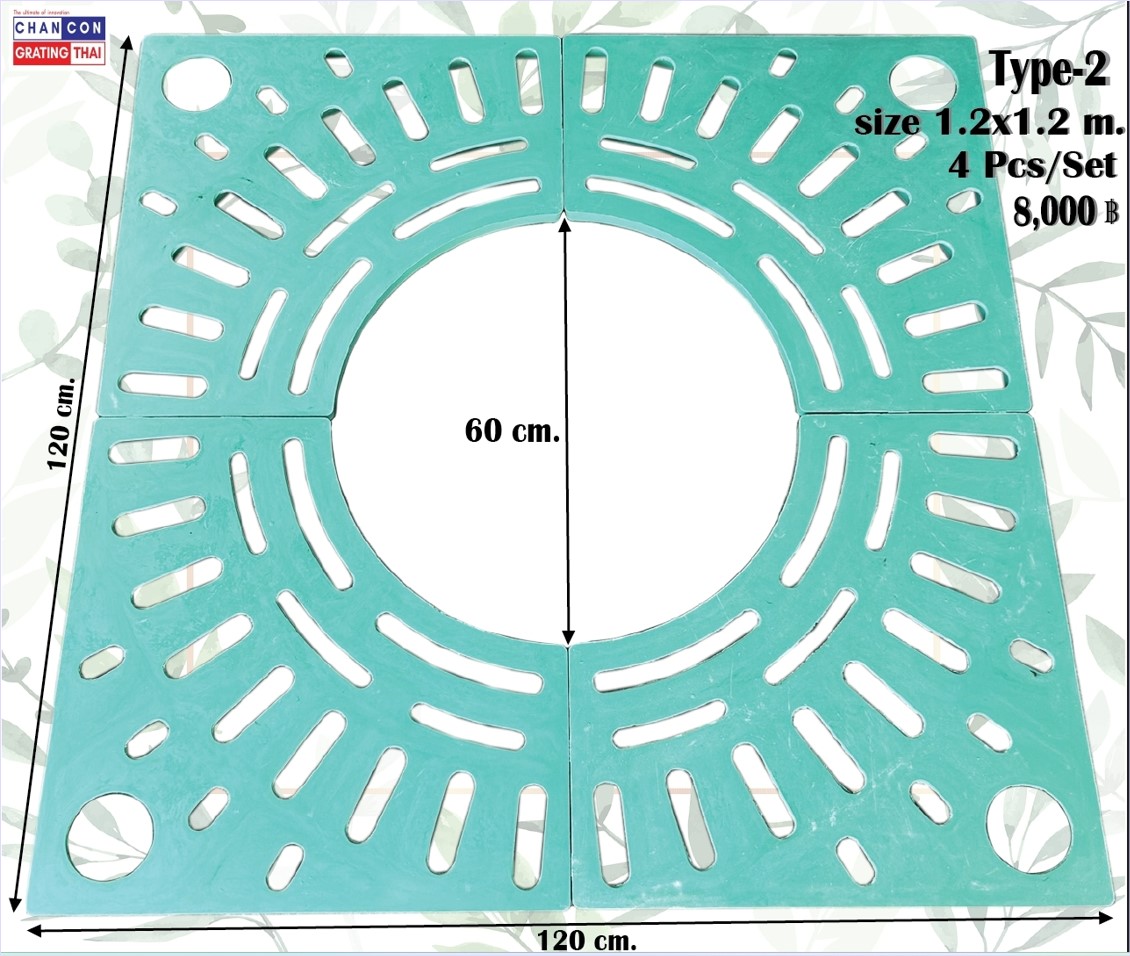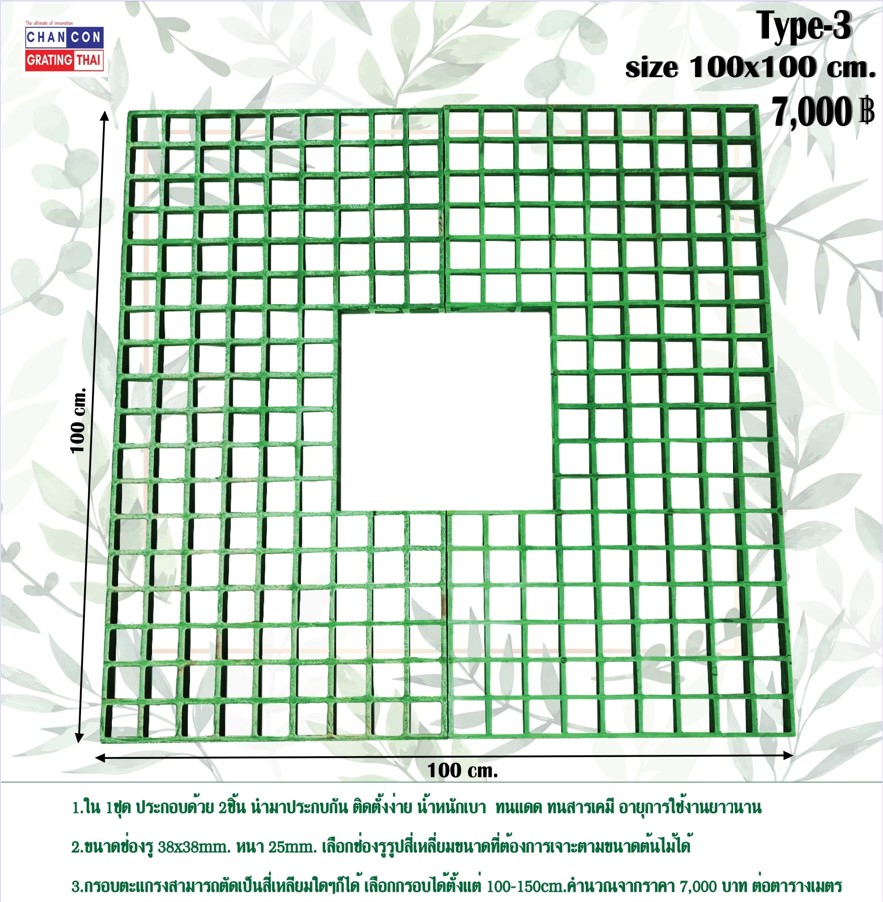 ---
กรอบตะแกรงปกป้องรอบโคนต้นไม้
FRP/PP Tree Guard Grating Paver Frame Cover

FRP/PP/Ductile Iron/Composite Big Tree Ring Guard Grating Frame Cover, Tree rings/ tree guards/ tree grates/ Trench Grating, FRP Tree Protection Guard, Frame Cover for tree grate, Decorative Tree Guard Cover Frame, FRP Mould Big Tree Guard Grating, Light weight and durable FRP material grating tree guard, Garden Decoration and Landscaping Exterior Grate products, Tree root trunk protective guard grating, Tree pit road safety grating cover, Tree Grating Paver Suspension Support Material, Pedestrian Safe Tree Grates and Trench Grates, Linear Paving sidewalk trench grate support, Perforated pavement around tree bollards
How can you decorate your tree after pour concrete floor? We have a better choice to protect and harmonize your tree and floor. With easily assembly and dismantle, FRP Big tree grating designed for tree base decoration effectively.




Type-1 : PP (PolyProPylene) Tree Guard Grating Paver Frame Cover กรอบตะแกรงปกป้องรอบโคนต้นไม้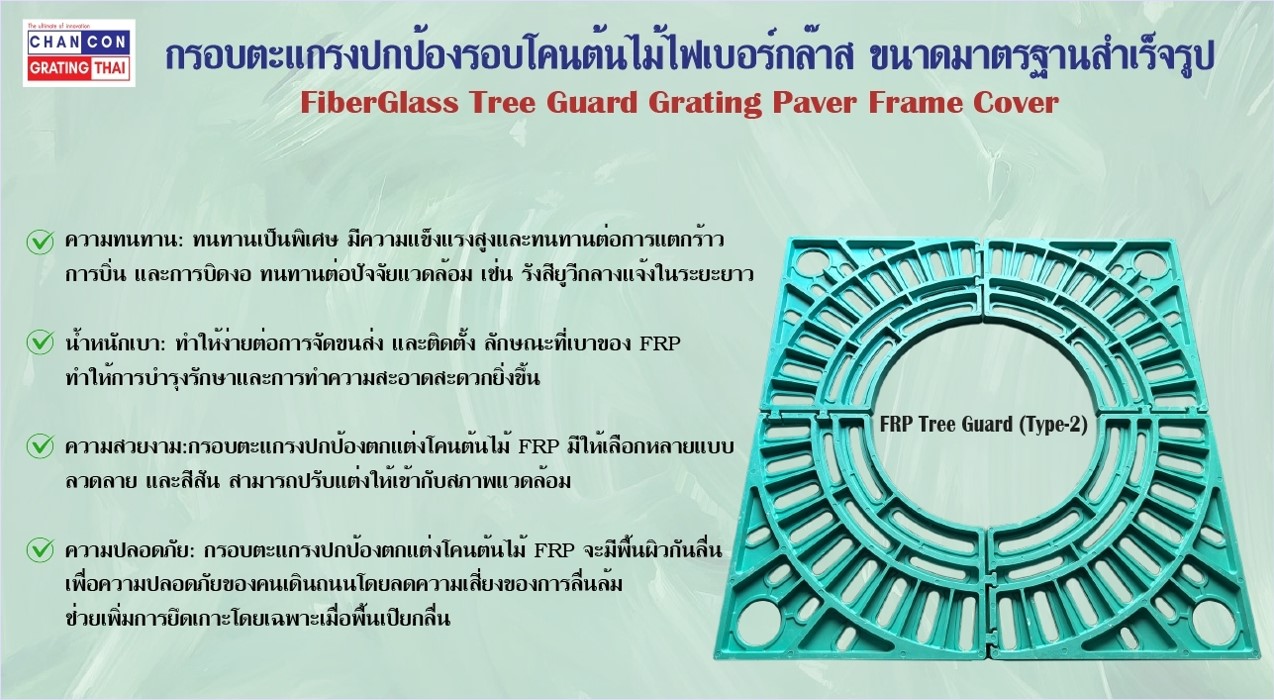 ออกแบบให้เป็นทั้งแผ่นรองปลูกหญ้าและเป็นบล็อกปูพื้นที่แข็งแรง สำหรับลานจอดรถ ทางเดินในสนามกอล์ฟ พื้นที่ลานรถวิ่งผ่านในสวนสาธารณะ และบ้านพักอาศัย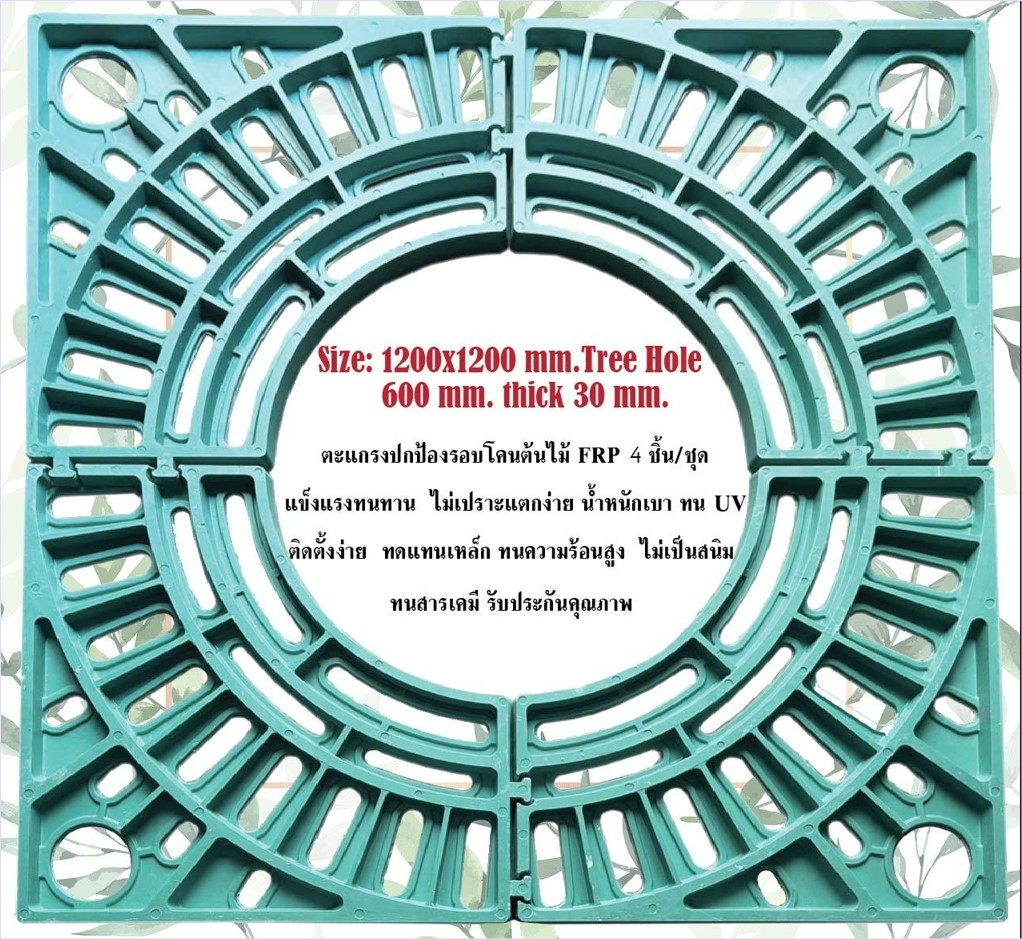 วิธีการปูแผ่นรองรอบโคนต้นไม้ สามารถใช้งานได้ง่าย ขนาดมาตรฐาน 35x35cm. หรือ 9 แผ่นต่อตารางเมตร สามารถนำแต่ละแผ่นมาต่อกันเหมือนตัวต่อ Lego โดยเว้นรูตรงกลางสำหรับปลูกต้นไม้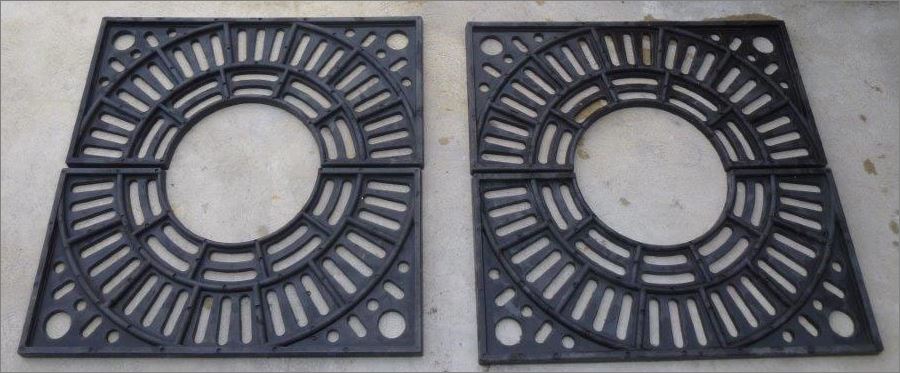 ---




Type-2 : FRP FibreGlass of Tree Guard Grating Paver Frame Cover กรอบตะแกรงปกป้องรอบโคนต้นไม้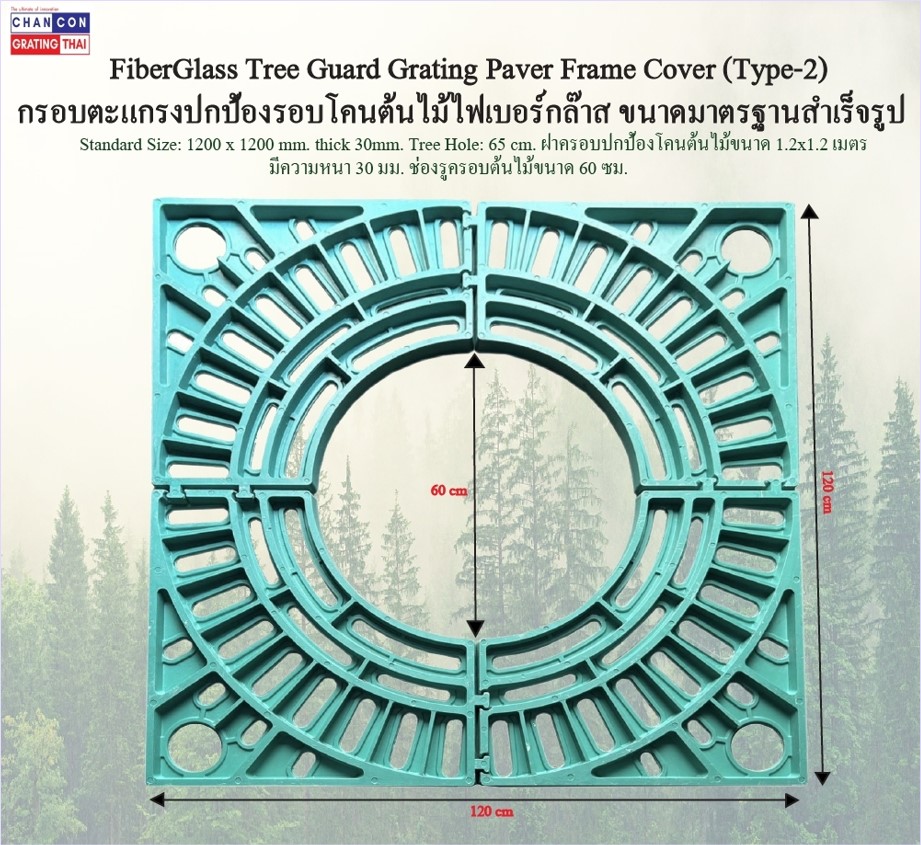 Tree Guard Grating Paver Frame Cover Specification
1. Standard Size: 1200 x 1200 mm. thick 30mm. Tree Hole: 65 cm. ฝาครอบปกป้องโคนต้นไม้ขนาด 1.2x1.2 เมตร มีความหนา 30 มม. ช่องรูครอบต้นไม้ขนาด 65 ซม.
2. Including 4pcs/Set: A Classic four pieces set designed with an interior radiating rectangular pattern, trimmed with an interlacing woven frame. หนงึ่ ชุดประกอบด้วย 4 ชิน้
3. Fiberglass Reinforced Polymer (FRP) Material ตะแกรงกรอบปกป้องรอบโคนต้นไม้ FRP เป็นวัสดุนวัตกรรม ใหม่ล่าสุด ออกแบบเพื่อมาทดแทนแสตนเลส/อลูมิเนียม/ไม้/เหล็ก อายุการใช้งานนานกว่า 100 ปี รับประกันคุณภาพ สวยงาม ทนทาน คุ้มราคา
4. Premium World Class Quality Material: นำเข้าจากยุโรป วัสดุเกรด A ส่งขายในอเมริกา ญี่ปุ่น เกาหลีใต้ สิงคโปร์ มาเลย์เซีย Light weight with high strength: ติดตั้ง ดูแลรักษาง่าย สำคัญสวยงาม มีสีสรรดีไซน์ในตัว และมีน้ำหนักเบากว่าทุกวัสดุ
5. Corrosion and Rust resistance: ไม่เน่าเปื่อย ผุกร่อน หรือเป็นสนิม มีคุณสมบัติคล้ายสแตนเลส ไม่เป็นสนิม ทนความร้อนสูง ทนสารเคมีกัด กร่อนได้ดี
6. Chemical & High Temperature resistance: เป็นฉนวนทนความร้อนและสารเคมีได้ดี ป้องกัน UV ไม่กรอบเปราะแตกเหมือนพลาสติก หรือวัสดุอื่นๆ แข็งแรง ทนแดด ทนสารเคมี เป็นวัสดุใหม่เพื่อใช้ทดแทนสแตนเลสได้ดี
7. No recovery value: แก้ปัญหาการขโมยวัสดุ เพราะFRP นำไปหลอมผลิตต่อไม่ได้ ไม่เป็นที่ต้องการในตลาดรับซื้อของเก่า
8. Five year warranty on materials: รับประกันคุณภาพสินค้า 5 ปี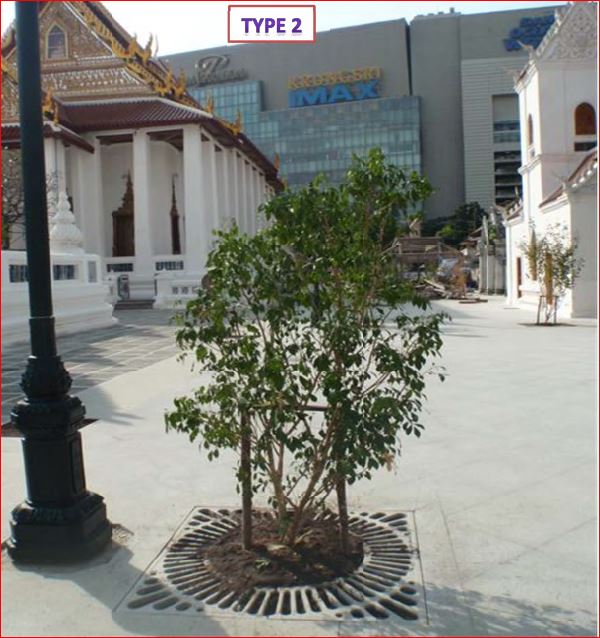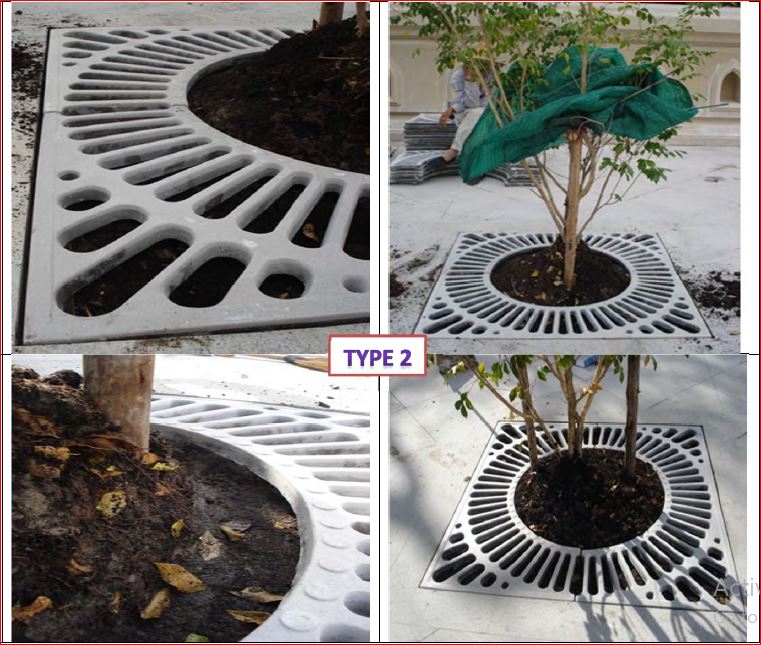 ---





Type-3 : Cutting FRP FibreGlass of Tree Guard Grating Paver Frame Cover กรอบตะแกรงปกป้องรอบโคนต้นไม้
เทคโนโลยีใหม่ล่าสุดของ Tree Guard Grating Paver Frame Cover กรอบตะแกรงปกป้องรอบโคนต้นไม้ สั่งผลิตตัดได้ทุกขนาด (Tailor Made) รับสินค้าได้ทันทีภายใน 2-3 วัน น้ำหนักเบา ไม่เป็นสนิมผุกร่อนตลอดอายุการใช้งาน ติดตั้งสะดวก เปิดฝาบำรุงรักษาง่าย ออกแบบมาทดแทนฝากรอบตะแกรงเหล็กหล่อรุ่นเดิม
This product can be colored, installation, maintenance, identification of convenience, since there is no recycling value, completely solved the problem of anti-theft. In the future cast manhole cover will be gradually replaced by composite material manhole cover, a huge potential market, the synthesis of inorganic composite manhole cover. Our tree guard appearance of modern, simple and beautiful, high fracture strength. Cut rate of 90 percent, cement and cast iron covers are cut several times, good drainage, so that the grass at the end of the tree can be fully exposed to air and sunlight. Hot-dip zinc surface can be a permanent anti-corrosion. Designed to facilitate the erection and removal have device. Widely used for municipal roads, gardens, squares, and other commercial and residential community.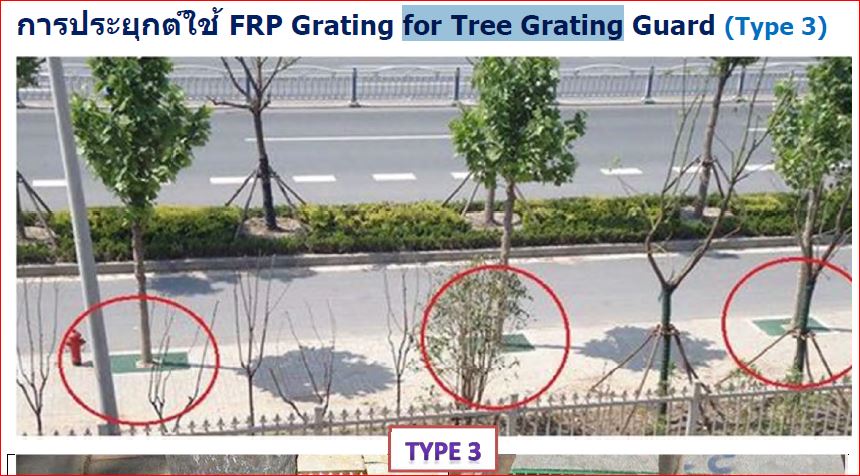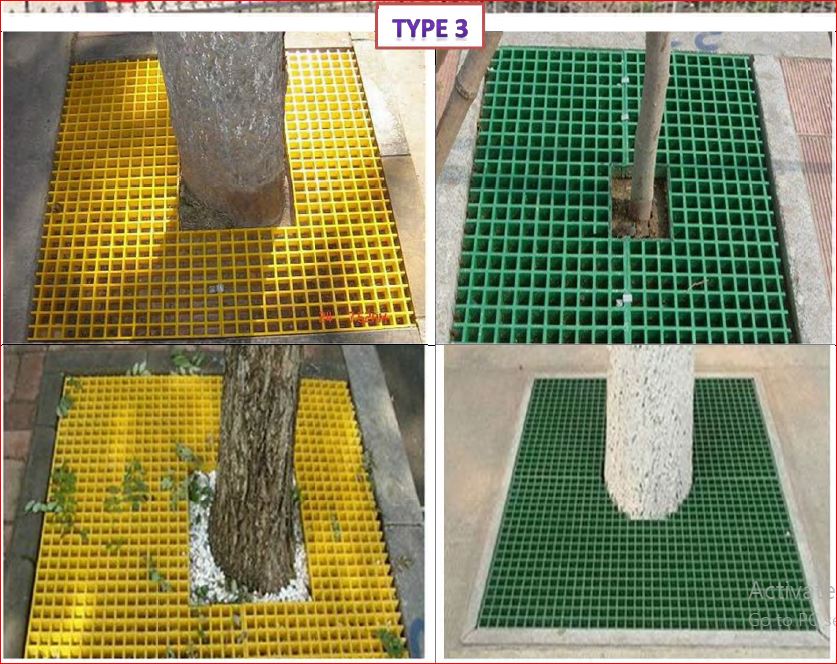 ---
Design and Idea of Tree Guard Grating Paver Frame Cover กรอบตะแกรงปกป้องรอบโคนต้นไม้

Spreading majestically along a city boulevard or creating an oasis of shaded tranquility in a residential courtyard, trees bring a beauty to any urban setting. Our tree grates protect and enhance that beauty, with designs that range from the elegantly simple to the impressively elaborate. Each is patterned and finished to complement virtually any architectural setting, giving protection to the root ball and root system, while providing for easy watering and drainage. Custom products available, all tree grates made of Fiberglass (FRP) and Ductile Iron.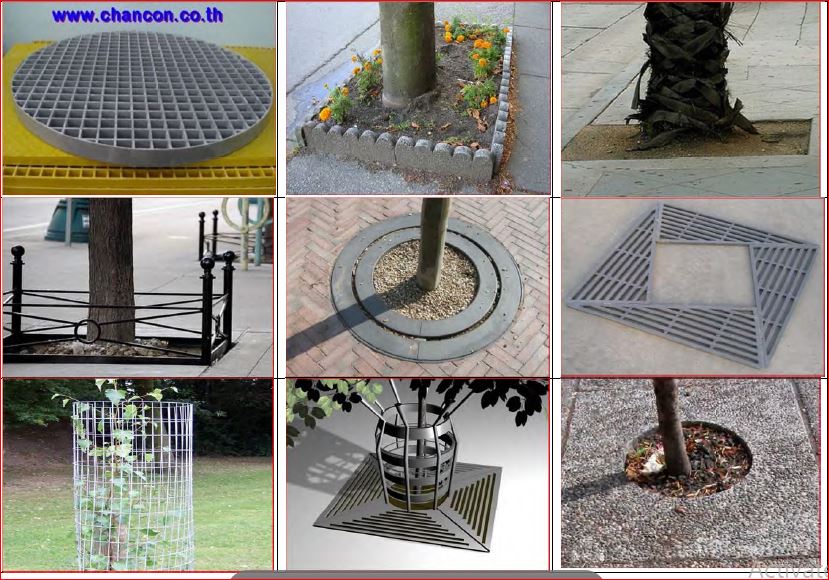 Our tree grates typically are designed with various tree calibers in mind. Tree grates should be ordered with tree openings that are appropriate for the intended tree. Each tree grate will have the available standard tree opening sizes listed. Should it be necessary to enlarge the tree opening on site, grates can be cut out to the standard openings. Expanding openings is relatively easy Tree grates have been used for many years to help integrate trees into the urban hardscape. Tree grates provide space for the tree while allowing pedestrian traffic over the tree planting area. They help to suppress weeds and trash accumulation in the tree planting area. GRATINGTHAI offers a various array of sizes, shapes, styles and material types. GRATINGTHAI? tree grates serve the function of a tree grate while allowing unit pavers to completely cover the tree planting area.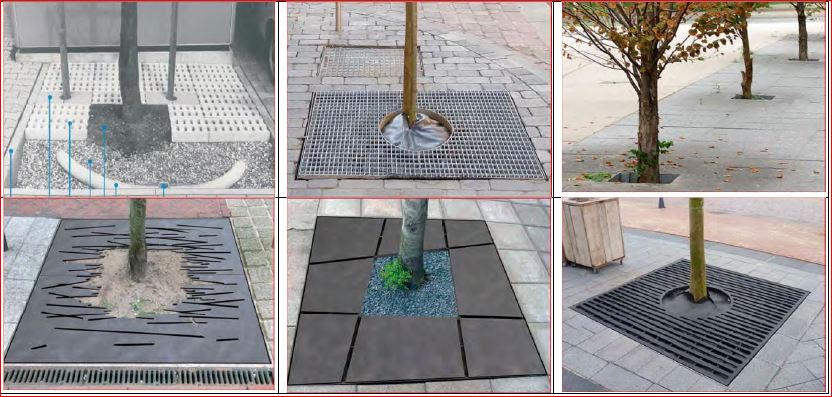 Material of Tree Grate Paver products: tree grates, trench grates, drain grates and bollards are available in:
1. PP Tree Grating: Standard material with high quality, join connection design for any size as wish ผลิตจากพลาสติค PP (Polypropylene) มีผิวแข็ง ทนทานต่อการขีดข่วน คงตัวไม่เสียรูปง่าย เป็นฉนวนไฟฟ้าที่ดีมาก สิทธิบัตรเฉพาะของแชนคอน ไม่เหมือนใคร ออกแบบพิเศษให้ แข็งแรงและใช้งานได้หลายสภาวะใช้สำหรับงานปูแผ่นพื้นยกระดับ แผ่นพื้นทางเดินบนบ่อปลาคาร์ฟ ฝาตะแกรงรางระบายน้ำรอบบ้าน อพาร์ทเมนท์ โรงเรียน โรงงาน สนามกีฬา รอบสระน้ำ
2. Cast ductile iron: Ductile iron is more malleable and less brittle than gray iron allowing for a greater strength to weight ratio. Best when higher strength and lower weight is needed. High percentage of post-consumer metal but may include pre-consumer recycled metal still meeting L.E.E.D. standard for recycled content
3. FRP Fiberglass: Colorful style design, light weight yet still strong, does not rust. Unique look when left unfinished. Corrosion and Rust resistance: ไม่เน่าเปื่อย ผุกร่อน หรือเป็นสนิม มีคุณสมบัติคล้ายสแตนเลส ไม่เป็นสนิม ทนความร้อนสูง ทนสารเคมี กัดกร่อนได้ดี Chemical & High Temperature resistance: เป็นฉนวนทนความร้อนและสารเคมีได้ดี ป้องกัน UV ไม่กรอบเปราะแตกเหมือน พลาสติกหรือวัสดุอื่นๆ แข็งแรง ทนแดด ทนสารเคมี เป็นวัสดุใหม่เพื่อใช้ทดแทนแตนเลสได้ดี

คุณสมบัติที่ยอดเยี่ยมของไฟเบอร์กลาส (FRP Specification)
1) Light weight with high strength: น้ำหนักเบา ติดตั้ง ดูแลรักษาง่าย
2) Corrosion and Rust resistance: ไม่เน่าเปื่อย ผุกร่อน หรือเป็นสนิม
3) Chemical & High Temperature resistance: เป็นฉนวนทนความรอ้ นและสารเคมีไดดี้ ป้องกัน UV ไม่กรอบเปราะแตกเหมือนพลาสติกหรือวัสดุอนื่ ๆ
4) No recovery value: แกปั้ญหาการขโมยวัสดุ เพราะFRP นำไปหลอมผลิตต่อไม่ได ้ ไม่เป็นที่ตอ้ งการในตลาดรับซอื้ ของเก่า




แผ่นทางเดินพิมพ์ลาย แผ่นพื้นลายหินธรรมชาติ ศิลาแลง ไม้พื้นเทียม ทางเท้าปูนดิบ ปูนเปลือย ลวดลายบน ทางเดินในสวน สระน้ำล้น จัดสวน
ไอเดีย ตกแต่งสวนด้วย "Tree Grating Guards" กรอบตะแกรงรอบโคนต้นไม้ ปกป้องและตกแต่งไปในตัว
ทำความรู้จักกับ "Tree Grating" กรอบตะแกรงปกป้องรอบโคนต้นไม้ ที่เอาไว้ตกแต่งรอบโคนต้นไม้ และที่สำคัญ เป็นการช่วยบำรุงต้นไม้ไม่ว่าจะเป็น การพรวนดินดูแลรดน้ำถึงรากแก้วได้ง่าย ทั้งยังเป็นการป้องกันรากแก้วและโคนต้นจากการถูกกระทบกระเทือนต่างๆ เช่นเหยียบจากคน จักรยาน มอเตอร์ไซด้ เอาหนักไปๆเลยคือรถยนต์ตรงสวนที่มีรถเข้าออกได้
การใชงาน "Tree Grating" กรอบตะแกรงปกป้องรอบโคนต้นไม้ ยังเป็นเทคนิคการเพิ่มพื้นที่สีเขียวอย่างต้นไม้ลงไปในงานออกแบบ ลานต่างๆที่เป็นปูน และต้องการปลูกต้นไม้ นิยมใช้กันมากในงาน Land Garden Scape งานภูมิสถาปัตย์ กรอบตะแกรงปกป้องรอบโคนต้นไม้ มีทั้งแบบตัวต่อและสำเร็จรูป หรือใช้เป็นตะแกรงลานจอดรถ มาออกแบบก็ได้
Trees and pedestrians alike require a certain measure of protection from each other and other elements of urban life. While our tree grates possess a decorative flavor and the ability to complement an areas surroundings, more importantly they provide protection and security to the tree, as well as providing a safe extension of the pedestrian walk way.
Tree Grating Gray Cast Iron
Gray cast iron tree grates (and frames) shall be as manufactured by Barry Pattern and Foundry (Barry-Craft), Birmingham, Alabama. Gray cast iron used in the manufacture of tree grates (and frames) shall conform to ASTM A48-83, class 30. All castings shall be of uniform quality, free from blow holes, shrinkage defects, swells, cracks or other defects. Casting will be free of fins, burrs and slag.
Tree Grating Cast Aluminum
Cast aluminum tree grates (and frames) shall be as manufactured by Barry Pattern and Foundry (Barry-Craft), Birmingham, Alabama. Cast aluminum used in the manufacture of tree grates (and frames) shall be alloy 319 meeting Federal Specifications QQ-A-601 and ASTM B-26. All castings shall be of uniform quality, free from blow holes, shrinkage defects, swells, cracks or other defects. Castings will be free of fins, burrs and slag. Cast aluminum will be natural sand-cast finish.

Foundry manufactures beautiful cast iron tree grates and guards in a variety of sizes and shapes. Protect your trees and add a touch of class and sophistication to your landscaping project — many of our designs even allow for the inclusion of your city, neighborhood or company logo. Whether for a downtown street, a quaint suburban neighborhood or a new stadium or amusement park, Neenah Foundry is certain to manufacture a line of tree grates or guards that meet your exacting specifications.
Available in a variety of designs, shapes and sizes, Jonite tree grates effortlessly integrate into the cityscape, providing space for trees to grow and develop. Our tree gratings are certified ADA compliant and wheelchair friendly. This makes our tree grates popular in hospitals, clinics and residential areas. tree grates allow fully customizable light ports or sockets for the installation of many different types of lightings for a night illumination which adds an exciting dimension to the natural beauty of trees. With tree gratings, you can easily emboss a corporate insignia or municipal logo right onto the tree grates in your environment, giving an exclusive identity to the locale. Beyond beautify and high-quality products, we strongly believes in sustainable development. Essentially sustainable development is one that meets the needs of the present without compromising the ability of future generations to meet their own needs. We aim to preserve the environment by incorporating the use of at least 30% recycled content in our products. Through the use of our gratings, carbon emissions will also be lowered. We are your partner in green and sustainable design.
Attractive Urban Landscapes with Tree Grates
Walking along the streets, parks, gardens and along pedestrian traffic, you will see a tree grate surrounding the trunk of a tree. These grates are act as a protective barrier for tree roots and trunks. Not only do grates add protection, but they will extend the pit life of the tree. This is crucial for builders, councils and landscapers in their craft, and as we are able to produce any tree grate designs, (and of course they can be constructed to cater for metal tree guards) they look great! Paige Stainless has designed a dual technology that will protect and extend a tree's pit life. As well as provide important draining needed for the trees and surrounding landscape. Steel mesh drainage grating prevents flooding and other contamination from the landscape. The drainage grating coupled with our stainless steel tree grates for added endurance and aesthetic appeal. These products give the landscape an added layer or protection and appeal. Both products can customize to fit any given dimension as well as shape or curvature. With the population on the rise, the need for tree grates in high pedestrian traffic has increased as well. Our tree grates are made to protect the landscape against high traffic areas with metal plates made of stainless steel. Not the higher maintenance products that are made in aluminum or rusting cast iron. This metal is placed around the tree base above the root zone or the excavated region. This helps to protect and encourage healthy growth. Moreover, the grills keep trash and general waste from falling through polluting the soil. That is an important factor in keeping the environment clean and looking good.

Tree grates are ideal for integrating trees into hardened landscapes minimising the risks to pedestrians from open and uneven soiled areas, while protecting the tree and limiting the build up of debris at the tree base, as well as suppresing the growth of weeds. Grating Tree grates are designed to allow for tree growth, with a ring design that allows the inner rings to be removed as the trunk grows. Tree grates are available in a variety of sizes and styles. We also have a range of higher strength ductile iron product available. Call us for details on size and pricing. All sizes are available with a Galvanised Angle Iron Frame.

Decorative tree grates are the perfect blend of form and function Available in many styles and designs, they promote healthier trees by offering air and rainwater a path to the roots, while providing a flat pedestrian surface compliant with the Americans with Disabilities Act (ADA). Tree grates blend artistic form with function to protect tree roots, manage stormwater and maintain neat, orderly and safe sidewalks. Protect your investment in green infrastructure and maximize benefits to your community by promoting healthy tree growth and longevity. Cast-iron tree grates are made to last and adapt to your trees as they grow. Choose the correct size tree grate and removable center so your trees can reach their full potential.
Designer Patterns Custom Logos Removable Center Rings Matching Trench Grates Security Bolting LEED Points Access Ports


---
---